MENU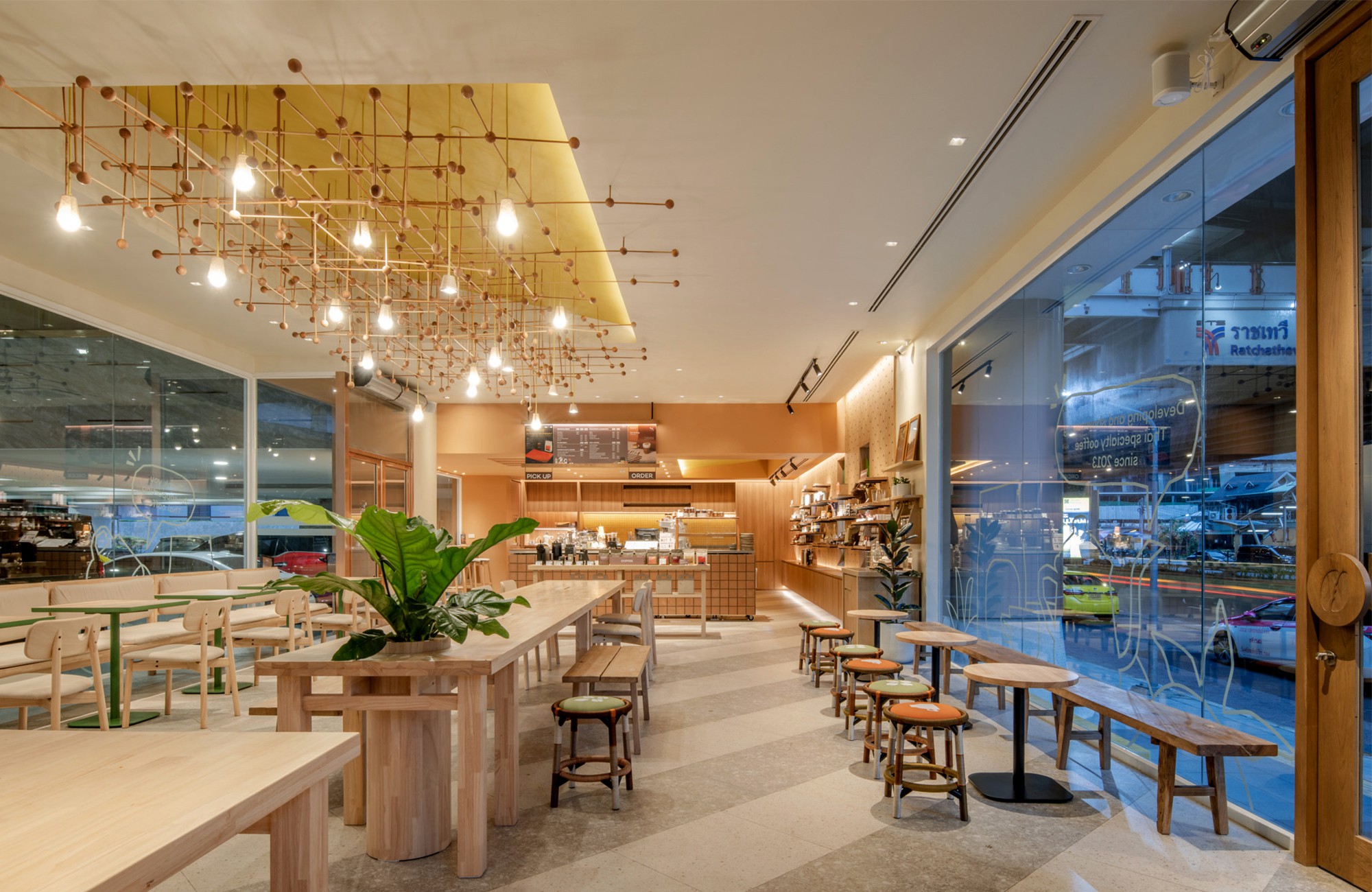 Location

Ground floor, Asia Hotel, Bangkok, Thailand

Type

Food & Beverage

Size

141 sqm.

Status

Completed

Year

2023

Client

Bhiraj And Beyond Ventures Co., Ltd.

Interior & Exterior design

DIN Studio

Modular counter

Studiomake

Contractor

PLOOK studio

Photographer

Jinnawat Borihankijanan
Roots Cafe at Ratchathewi is more than just a coffee shop; it's a tale woven from philosophy, nature, and community spirit. Situated on the ground floor of Asia Hotel, facing the main road and Ratchathewi Sky Train, this space embodies Roots Coffee's essence : 'Coffee - People - For Tomorrow.'
Our inspiration delved deep into Roots' philosophy, where 'Coffee' signifies the heart, 'People' represents growth, and 'Tomorrow' embodies hope. The foundational colors - brown, green, and yellow - drawn from the earth, leaves, and sun, laid the groundwork for our design. Roots' iconic logo, a fusion of name and dots, inspired our integration of the concept of unity within the Thai coffee community, symbolizing the spreading Thai coffee community.
Central to our design is a captivating installation: a sunlight masterpiece meticulously crafted from wooden dots, created by the talented bamboo artist Korakot Aromdee and his team . Hanging above the seating area, it symbolizes the connection of dots and the promise of a new day.
Roots' pictograms found their way into our design, subtly incorporated into circular tiles by loqa , adorning both the exterior facade and the modular counter, a collaborative effort with Studiomake . 'Dots,' another key element, adorned adjustable shelves, becoming a visual representation of community unity.
Local craftsmanship shines through in the custom-made stools by Kitt.Ta.Khon, where coloured ropes wrap around the legs, featuring Roots' pictograms on the cushion fabric.
Even our floor pattern, an intricate diagonal stripe design in two tones, tells a story. It represents sunlight filtering through, casting a warm overlay upon the ground.
Every detail in Roots Cafe at Ratchathewi reflects the simplicity and warmth of Roots Coffee's approach. We extend our sincere gratitude to the Roots team and the Roots brand, a source of inspiration for us. We've long been admirers of their commitment to supporting local communities and farmers, their success, and their unwavering humility. We're honored to be part of the Roots project.
Visit the site